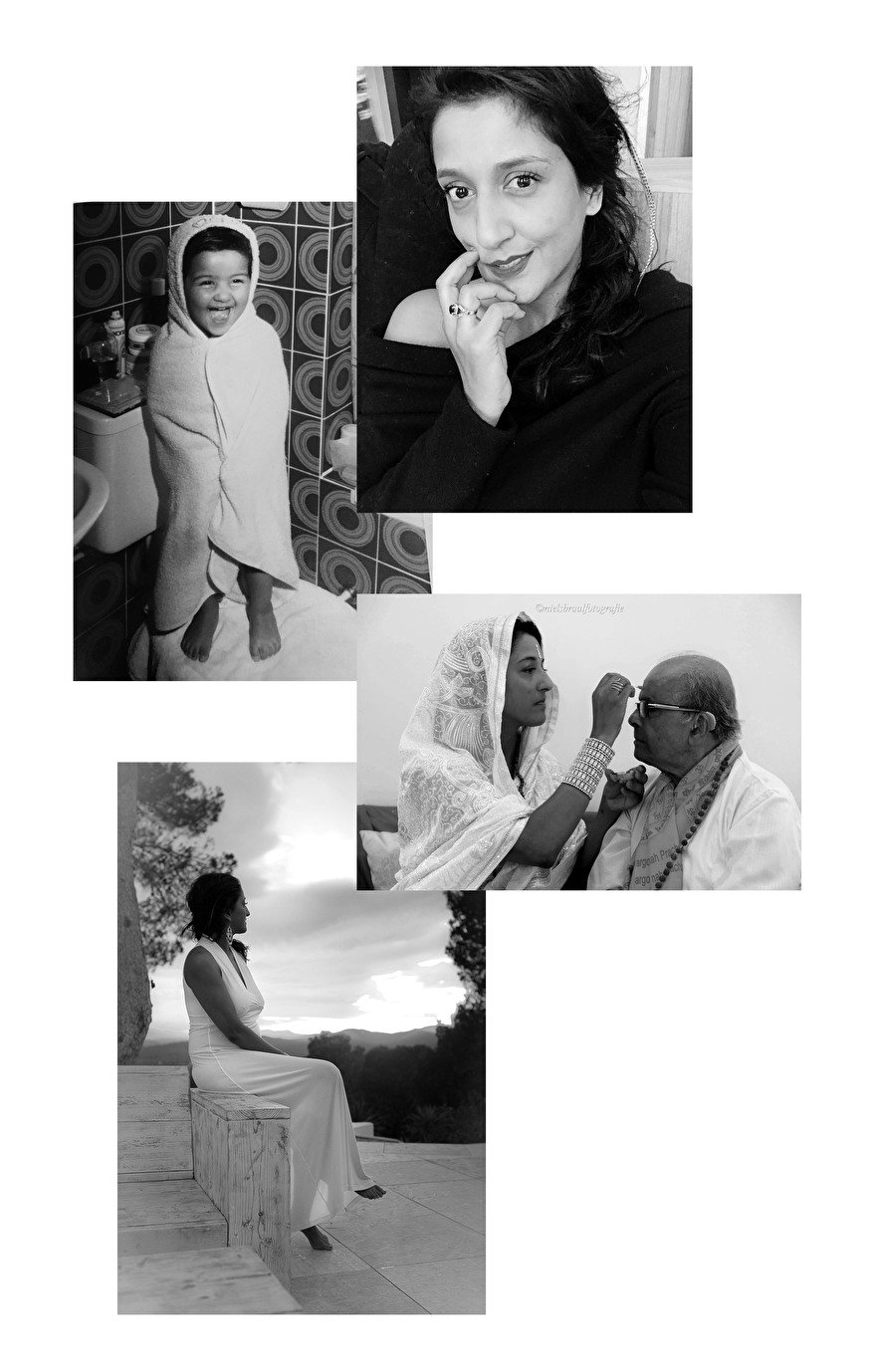 I thrive on life's beauty and magic, creativity and supporting others in their passions and purpose.
I am a holistic therapist in the field of the well-being of the precious body, via yoga & meditation, tantra, shaking medicine and healthy food. This was my personal pathway to healing after an intense and successful career as a business lady in the television world and severe life-events, and I quickly discovered the deeper benefits that extended beyond the body to mind and spirit.
I am the founder of The Lakshmi Lifestyle. I have the vision to bring the beauty, wisdom, and the finesse from the East to the West, in my own authentic way! My mission is to remember all women in the entire world that being sensual, spiritual and successful is your birthright and that you can be all of that at the same divine time!
My beautiful feet rooted in Mother India; I have gained interest in spirituality at a very young age. In the many years following, while I was working as a businesswoman in the sometimes rough world of media and television, I practiced yoga and meditation and various sports already, as my daily start-up ritual. Actually, my first yoga class was when I was living and working in New York in 2000, a total bliss experience that was.
Nowadays, I can call myself a Tantrika, certified KRI Kundalini Yoga & Meditation Teacher & Coach, bodyworker, holistic therapist and a real Life-Artist. My goal is to share the unconditional love with the world, be an inspirational and motivating guide, and to coach others in life. My biggest wish is that everybody becomes the best version of themselves, love others and have as much joy and laughter as possible.
Twenty years ago, when I first set foot in India, the heartwarming sensation I experienced, felt like coming home again. The religion, beliefs, and vibe I experienced in the country of my great-grandparents and the generations up until my own existence changed something within me from that moment on. Also, I knew there was something for me to do here in combination with the power of women!
But life took me in different directions first. Working life and my globetrotter's heart made me travel all over the world. This brought me to New York and Cannes for example, where I decided to stay for a while to work and make a living. Then, after working in the media for over 10 years, companies like Endemol and Q-Music, of which the last years as Commercial Manager for Talpa/ John de Mol, my heart called again. And it called for something completely different.
Book a free session of 15 minutes with me now.
My life mantra:
"Balance is key. In everything you do.




Dance all night long and practice yoga the next day.




Drink wine but don't forget your green juice.




Eat chocolate when your heart wants it and kale salad when your body needs it.




Wear high heels on Saturday and walk barefoot on Sunday.




Go shopping at the mall and then sit down and meditate in your bedroom.




Live high and low.




Move and stay still.




Embrace all sides of who you are and live your authentic truth!




Be brave and bold and spontaneous and loud and let that complement your abilities to find silence and patience and modesty and peace.




Aim for balance.




Make your own rules and don't let anybody tell you how to live according to theirs."
What do the participants say about Humita?
I just finished my evening meditation, ending up in tears, so grateful for meeting you, accepting your offer and answering truly your questionnaire; you might be the "guru" I always waited for 💙✨
I've known Humita during various stages in her life, as a yoga teacher and as a coach.
Yoga teacher; Humita's contagious life spirit, passion and knowledge of yoga are all reasons why it's such a joy to follow her lessons. Each session is an appropriate, spiritual and transformative party.
Coach; Humita has the talent to move women further in life, and make them live their lives to the fullest. Her sensuality is inspiring, her spontaneity is contagious and her sincerity makes her affectionate and accessible.
It's extraordinary how she always manages to hit the nail right on the head. But the thing I admire most about her is her ability to see the potential in every woman, and the way she gets this across to them.
Marleen Kuijt, Entrepreneur, Amsterdam.
💙
As a person, she is very lovely, open, warm and sincere. And very empathic and supportive. I also love her strength and dedication.
As a teacher, I appreciate her ability to support and notice, encourage and trust the natural flow.
Marika Poom, Estonia
💙
I just want to say thank you for our time in Ibiza.. it is now a while ago but anyhow.
You are such an inspiring yoga teacher. Teaching from your heart in a truly compassionate and feminine way. I loved your classes and especially the meditations you choose, all about heart opening and expansion. You are wonderful
Paula Nygren, Sweden
💙
💫'Can you remember who you were before the world told you who you should be!'💫
Mijn avontuur in het belichamen van mijn vrouwelijkheid begon vorig jaar pas echt toen ik een traject startte bij Humita Lotus. Een pracht & kracht mens, en expert op het gebied van vrouwelijkheid en lichaamswerk.
Omdat mijn weerstand op dit vlak snel getriggerd wordt waren veiligheid en vertrouwen essentieel, en dat waarborgde zij. Een innerlijk gevecht was gaande en ik heb mijn best gedaan dat te projecteren op anderen, en ook op haar! Maar zij bleef rustig en liet mij op een liefdevolle en respectvolle manier heel zacht en subtiel kennismaken met mijn lijf, maakte mij bewust van de kracht van mijn geest en hoe ik alleen mezelf onthoud om het licht te zien en te genieten.
Ik voel me dankbaar voor haar begeleiding. Het heeft veel in gang gezet en geopend om op mijn eigen tempo verder stappen te zetten en er steeds meer achter te komen wat ik wil, nodig heb, hoe ik nog meer voor mezelf kan zorgen ipv. voor anderen en mag genieten van het leven. Ik heb daarin al vele lagen, pijnstukken en kindstukken geheeld, maar deze laag is hardnekkig en de weerstand krachtig.